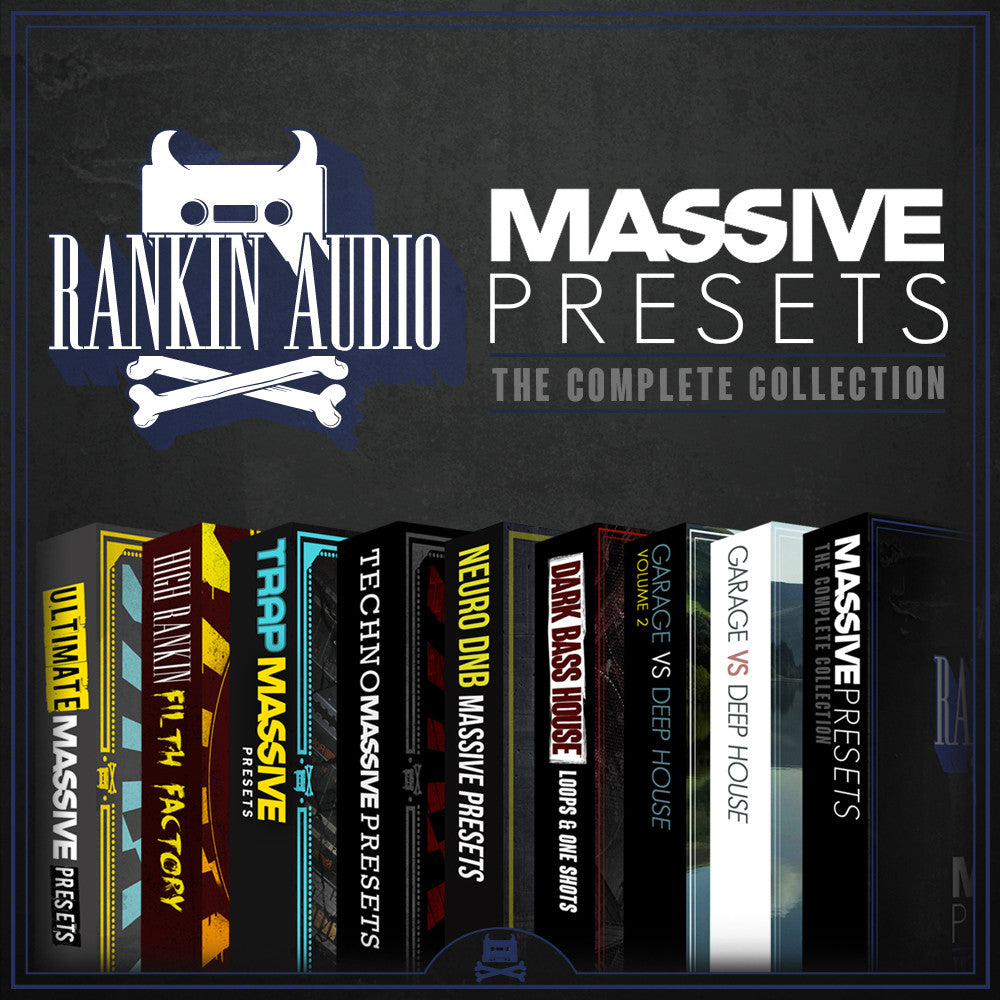 762 Massive Presets - The Complete Collection
762 Massive Presets - The Complete Collection
Total contents:
8 Complete Products
762 Ni Massive Presets.
32 Bass Oneshot wav files
100% Royalty Free for commercial use
Instant Download
Cost if bought separately - £135 (THAT'S OVER 40% OFF!!)
Requires NI Massive 1.3 or above
Now, for the first time ever Rankin Audio is proud to offer a complete collection of the Massive presets that have inspired and aided many thousands of tracks worldwide. 8 products and over 750 Massive presets spanning House, Dubstep, Trap and Drum & Bass. This is an incredible collection that would sever both beginners and professionals alike and with over 40% offer, this is a deal not to be missed.
85 Dark Bass House Presets
82 Neuro Drum and Bass Presets
210 Garage and Deep House Presets
125 Techno Presets
65 Trap Presets
150 Ultimate Massive Presets
50 High Rankin's Filth Factory Presets


Dark Bass House  
Focussing predominately on bass patches, the pack offers only the very finest sounds that Native Instruments' super-synth has to offer. A collection that covers everything you will need to make the low end of your tracks dirty, heavy and seriously fat.
85 Presets
Neuro Drum and Bass 
Rankin Audio Neuro DnB is a collection of 82 presets for the infamous NI Massive synth dedicated to the dark and technical sounds of Neuro for your latest DnB Neurofunk or NeuroHop tune, they'd even fit in some heavier and darker Dubstep projects.
82 Presets
Garage Vs Deep House Vol 1
In the last year the cross genre sound of Garage and Deep House has taken the world by storm and has revived some amazing production styles and sounds. The swung beats of 2-step and the subtle groove of Deep House fused together into a smooth but energetic package that is doing the good business on dancefloors everywhere.
100 Presets
Garage Vs Deep House Vol 2 
After popular demand Rankin Audio has put together a second selection of the finest Ni Massive presets to get the best house and garage sounds out of the monster synth. Featuring a selection of super warm and silky bass sounds, beautiful chords and stabs, wicked little FX sounds and classy keys.
110 Presets
Techno Massive Presets
Rankin Audio Techno Massive Presets contains everything you need to build a quality techno track ready to melt some willing faces.  Basslines ranging from clicky and bouncy to hard and thumping, atmospherics and white noise risers, soundscapes and pads, to the all important synths and stabs. Many different percussive and rhythmic elements are also included, with each sound able to be manipulated across a track through macro controls, giving you the movement necessary to keep techno listeners engaged.
125 Presets
Trap Massive Presets
Contained in the pack is a collection of everything you need to master the synth elements of the genre and style out a Trap monster of your very own. All the pitch- bent, bubbly goodness you can eat, harnessing the power of the one and only Massive. Just run some earth moving 808s underneath and you're in business.
60 Presets
Ultimate Massive Presets
Pow, bang, crash, wollop and boom. That's right, you heard! Big man on campus Temper D is up in the building with a pack of no less that 150 NI Massive presets. Covering a full range of sounds from lush pads to full on leads, evil bass and deadly subs. Fully utilizing the power of the synth the is more responsible for changing the face of recent dance music than any other.
150 Presets
High Rankin's Filth Factory
High Rankin's Filth Factory is the first in a series of one shots and Massive presets catering for the more unhinged of producers.  A collection not for the faint hearted. Bass, leads and stabs to turn any production into an absolute monster.
50 Presets - 32 Bass Oneshots

What the pros say...

My Digital Enemy (Toolroom, Spinnin) - Garage VS Deep House vol 1
" Wow. What a brilliant Massive pack. Really current sounds for all House, Tech House, Deep House producers and probably all other electronic producers too! 10/10"
Nick Thayer (OWSLA) - Neuro DNB Presets
"Great sounds in here from pads to reeces. Really interesting use of the synth. Very refreshing and innovative. 10/10"

Trafik (Global Underground) - Ultimate Massive Presets
" Dirt, just sheer dirt. The kids are really going to love this one. Remarkable collection of sounds for the world's most popular plug in and not a filler in sight. Must have for purveyors of electronic grunts and groans. 10/10"
Share